From Research and Testing Room Vol.5
Goodbye to State of Emergency… Hello to
Rainy
Season
Hello again, this is Kita from Classic's Research and Testing Room.
Japan has lifted the state of emergency over the COVID-19 on May 25th. Then on June 11th, "Tokyo alert" was also lifted on the day that Kanto region (eastern and central Japan) has entered into the rainy season. Now, no one is asking us not to travel across prefectures and we are free to move around, but it does not mean that we are free from the virus. COVID-19 worries still persist as there is no specific treatment nor vaccination for this virus. And now, hot, humid, and soggy weather is added to that misery. It will be a great opportunity to think about ways to cope with the stress. Well, here is a thought; take a walk in a quiet morning after rain, and take your mask off if no one is around you. Then, take a deep breath… you will smell the early summer scent of grass. When I had this kind of moment the other day, I felt very refreshed. …Indeed, one great way to relieve your stress is to take your "Vitamine F" and "enjoy home with flowers"!
Oh, yes, it was Father's Day
Yesterday (June 21st) was Father's Day. I personally love this year's catchphrase (and the poster) for Father's Day campaign promoted by Nippon Flower Council.
The poster depicts a father carrying a piece of sunflower saying "why don't you let me carry the flowers once in a while?" Then underneath the date of this year's Father's Day, it says "Flowers have power to cheer fathers up." In Japanese, "letting a person carry the flowers" means "letting a person have the credit for a success." It makes you chuckle while leaving you feeling a sense of wabi-sabi. I hope that many fathers have recharged their energy by having some flowers this year.
By the way, I did a little research on the history of Father's Day. The tradition has started in Washington, US, when a girl named Sonora (later Mrs. Sonora Smart Dodd) asked the church to give recognition to fatherhood in honor of his father who have raised her by himself. The church has responded to her request and decided to celebrate Father' Day in June, in Sonora' father's birthday month. When her father passed away, Mrs. Dodd has offered white roses at his grave. This episode formed the basis of a tradition in the US, to give red roses to a father during his lifetime and white roses after his death. In Japan, Father's Day Council Japan has promoted the color yellow to be the color of Father's Day, which represents family love and respect. Then this has developed into Japan's own tradition of giving yellow roses to fathers on Father's Day.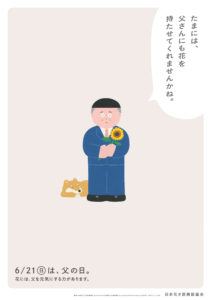 Quality Evaluation for New Products Candidate
We evaluate the quality of each of our new products candidate based on the quality standard from the customer's perspectives—we want our customers to think that "Classic Japan stands for the quality". For each flower, we make sure to identify the most suitable transportation conditions as well as the best hydration technique to improve keeping quality and vase life. Quality of flowers depends on healthiness and freshness of the flower, temperature, humidity, fluctuation in illuminance, various additives used to affect quality, proper removal of lower leaves, and so on. Sometimes I am puzzled by my own findings; for example, I observed a change in color while conducting a vase life test. I will record all of those information as data to later use as evidence.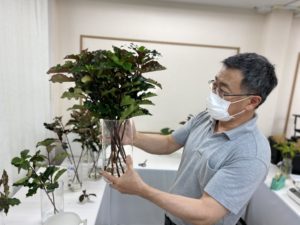 Scissors
When you use data as evidence, or when you try to visualize and prove things that are obvious to people's eyes with information obtained through testing, sometimes you come across very interesting findings. Such a moment of serendipity gives me a real pleasure of working here at the Research and Testing Room! I can actually see the outcome with my eyes, for example, that roses hydrate better when it has lesser lower leaves.   
Many of the readers of this blog is the professionals of flowers, so it's like teaching fishes to swim, but you can easily see how scissors (or cutting quality) can influence flowers by comparing the data (refer to the picture on the right). The result is quite obvious! One of the very basics of flower care is to cut the stem with a blade with sharp cutting edge so that it won't squash vessels of flowers. Blade sharpeners are available from 100-yen in Japan—we recommend to sharpen the blade every once in a while.
By the way, my boss says that it is relaxing and calming to sharpen the blade of his cooking knife… He concentrate his mind like a samurai!
My Job at Research and Testing Room
I've already mentioned this before, but the most exciting moment of my job is when I see the final outcome of the advice I gave to each farm, which are always backed up with data. That is after our partner growers actually hear us out and follow up on the issue, and when our customers gave us a feedback that they see the improvement in quality.  Sadly, sometimes we cannot obtain the understanding of the farm about the importance of the issue. Often times in those cases, we fail to set up a clear purpose nor identify possible cause of the issue to begin with. 
Research and Testing Room is not a profit center; we do not generate sales. Rather, we are the cost center, but we are not only generating cost… We are the value adding center who provide added value to our customers!
Does our customers' value or demand change after COVID-19? If so, then we have to find out what will be the new normal of our customer.
Yes, we will continue to move forward!
---