From Research and Testing Room Vol.4
Covid-19 and Flower's power
Hello again, this is Kita from Classic's Research and Testing Room.
The government has lifted the state of emergency imposed to prevent the spread of COVID-19 for some prefectures. Unfortunately, the virus is still out there, so in order to stay safe, it's important to keep avoiding the 3Cs (Closed spaces, Crowded places, and Close-contact settings). New ways of life we have developed due to the prevention, including how we communicate and work will be the norm from now onwards—we are highly probably not going back to the old ways. That being said, I have a feeling that most of us will continue to spend a good amount of time at home.
So, how are you spending your time at home? We will be more than happy if any of you actually "Stay Home with Flowers" and enjoy their beauty! 
I am surrounded by flowers at work, but I also decorate my home with flowers to take Vitamin F(※). Result? I managed to live stress-free life!(well I am going to ignore some people shouting "no way!" lol)
(※)Vitamine F:Flowering Japan Council is leading the Japanese flower industry to promote the power of flowers and plants to positively influence people's mind and body, naming such power as "Vitamine F" (F for Flower).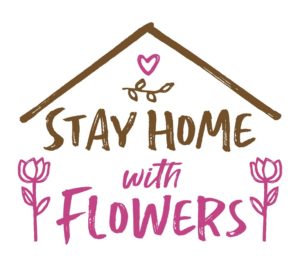 Look back on mother's day 2020 (and mother's month continues…

)
Gathering flowers from around the world while countries implement prevention measures against COVID-19 on a global scale was not an easy job. To make things worse, we were looking to import and distribute tons of flowers for Mother's Day, the biggest event for flower industry.  
This year, many farms struggled to gather manpower due to the movement restrictions imposed by their governments. Securing our means of transport was our biggest challenge because many airlines reduced the frequency of flights or some routes are cancelled completely. Therefore, despite the cost increase, we have decided to use a charter jumbo freighter to import carnations so that we can surely deliver those special flowers to our customers.  
We import a large amount of flowers at a time for Mother's Day, so we double or triple our usual efforts to check and maintain the quality of flowers. We have been intensely checking the quality of flowers sent by each farm over a month and communicating with them in case there is any room for improvement. However, unfortunately, we did received some complaints from our customers about the quality of flowers. We thought we have done everything we could, but obviously, we could have done it better. We will learn from our failures and make sure to take our learning forward in the future work. Our pursuit of quality will never end.
This year, due to the COVID-19, the Flowering Japan Council runs "May is the Mother's Month" campaign to ask people to take their time to celebrate Mother's Day anytime during a month, instead for a day. Some people say that their own birthday should be "the day to thank mom" for giving them a life, which makes every day in the whole year as somebody's mother's day. 
It is now a difficult time to visit and thank our moms in person, so I imagine many people have chosen to send flowers to express their appreciation, love and care for their mothers. We are honored to be a part of carrying those flowers with warm thoughts and messages… Be assured that we strive to deliver those flowers in the best possible condition, handling them with our best possible care.
First Impression Lasts
The first impression is very important in general, and flowers are no exception.
If your very first flowers—whether you bought them or gifted by others—are damaged or did not last long, what would be your response? You will be sad, or worse, lose the interest in flowers completely!
We must admit that our usual operation of importing a fresh, quality flowers from farms around the world has becoming increasingly difficult nowadays mainly due to the disruption in global supply chain.
However, during a time like this, we must pursue an even higher level of quality.
As a gatekeeper of quality, we have a mission to provide flawless "great" flowers which gives a lasting, favorable impression to everyone, and especially to those who takes their first flower bouquet home to make them fall in love with flowers.
Mother's Day
We are aware that most of our partner farms are thrown into a total confusion amid this fight against coronavirus. Now the industry's biggest event of the year is close at hand. It must be very difficult especially for those carnation growers to carry on with usual preparations and works for this year's peak season.
In order to maintain the quality of cut-flowers, workers must follow the step-by-step, demanding care procedures after harvesting.
Farms usually deal with a great amount of flowers before Mother's Day and become super busy, so we double-check the quality at our facility to make sure that each and every stems are treated and graded well just like usual. 
As of 6th April, I am randomly picking some samples of carnations from each of our partner farms and running some quality tests from several check points, including amount of damage and vase life. I have not set out a specific test theme this time, but the main purpose is to detect any quality problems before it goes out to our customers' hands, so that people can have a great first impression and relax with our flowers during this difficult time.
And the summer is coming…
By the way, does anybody know that Classic's operation center is equipped with several refrigerators with different temperature settings and we selectively use them for different purposes? Especially in the time of warm and hot weather, instead of suddenly taking the flowers outside for shipping from the cold refrigerators, we make sure to cool them off completely and gradually get them used to the higher temperatures in the process of carrying-in(we precool the flowers), quality checking and repacking, and shipping preparations.
I often visit those refrigerated areas to check the conditions of flowers. Once I am done and when I go outside from the refrigerator, that's when my glasses tell me the turn of seasons… if my glasses start to get foggy, then it means the summer is coming!
Summertime brings headache to us, the gatekeeper of flower's quality, because it increases the chance of rotting problems. Summer is tough for living cut-flowers, and it surely becomes hard to keep the quality consistent when it's hot and humid. Despite that, we will continue to put our best efforts in keeping flowers fresh and their quality high.
A COOL APP, A HOT TOOL
Speaking of something cool and hot, I want to share a cool app that help us identify colors objectively.  This great app I found picks the color from the photo you take and gives you RGB color codes for each!
Colorimeters are generally very expensive, but this app was available free.
The app which is originally developed to support color vision works as a great tool for us to determine, analyze, and convey colors of flowers which can be easily affected by individuals' sense of color perception.
This tool allows me to compare the color reproducibility under different lighting by converting each color in numerical values (data).
I am planning to collect all those data for future reference. Color is something deeply related with human sensory, but its concept may drastically change in the near future with the use of this kind of technology together with AI.
Moving forward one step at a time
COVID-19 and related prevention measures has altered our society and economy in many ways, and for now it is still hard to imagine the post-coronavirus world where the treatment and immunity is established for all.  On the other hand, COVID-19 also reminded us of the importance of understanding each other through different forms of communication. I believe it has also awaken our sense to keenly appreciate beauty at a deeper level.
We will keep moving forward one step at a time, to deliver those beautiful flowers at a great condition so that our flowers can invoke positive feelings and sense of appreciation among our customers.
---